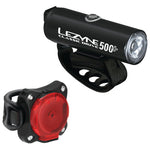 Regular price
Sale price
$87.49 USD
FRONT LIGHT:
A classic bike light with a modern twist, the Classic Drive 500+ front light beams 500 lumens (up to 80 hours of runtime) via a single high-output LED emitter. It's built around a sleep cylindrical housing that offers a compact and lightweight form factor. Its waterproof USB-C charging capability is convenient for recharging(cable not included). The machined aluminum construction ensures durability and efficient heat dissipation. Rigorously tested to IPX7 Waterproofing standards, it is built to withstand various weather conditions. Choose from six different output modes, from the highly disruptive Daytime Flash mode to the long-lasting 80-hour runtime in Femto Mode. The Infinite Light Power Pack+ compatibility offers versatility and extended runtimes. Features: IPX7, Daytime Flash, Infinite Light Power Pack+

REAR LIGHT:
The Zecto Drive 200+ Rear is a low-profile, high-visibility light with an impressive 200 lumens of brightness. Its six combined solid and flash output modes offer versatile options for any situation. Its highly disruptive Daytime Flash mode ensures maximum visibility during daylight hours, and the intelligent Power Indicator displays battery runtime and increases side visibility. The light is fitted with a patented 2-in-1 clip and strap mounting system, allowing easy attachment to handlebars or loops. It is rigorously tested to IPX7 Waterproofing standards to withstand even the harshest weather conditions. With a 650 mAh battery capacity, the Zecto Drive 200+ Rear offers a maximum runtime of up to 35 hours in Femto mode. It also boasts USB-C waterproof charging(cable not included), making it easy to keep it charged and ready to go. Features: IPX7, Daytime Flash.

CLASSIC DRIVE 500+ FRONT Specifications:

Max Lumens: 500
Max Runtime: 80 hours
Battery Capacity (mAh): 1900
Recharge Type: USB-C
Weight: 95g
Dimensions: 83mm, 27mm, 45mm
Features: IPX7, Daytime Flash, Infinite Light Power Pack+
ZECTO DRIVE 200+ REAR Specifications:
Max Lumens: 200
Max Runtime: 35 hours
Battery Capacity (mAh): 650
Recharge Type: USB-C
Weight: 50g
We provide FREE shipping for ALL orders. 
We aim to ship orders placed before 3pm Monday to Friday the same day, orders placed after this time will be posted next business day. Orders placed on weekends and bank holidays will be posted the next working day. All items are sent via USPS, or FedEx, or UPS post. Postage is combined for multiple purchases. Please request an invoice for reduced postage. First class and priority mail post should arrive in 2 days, but this is not guaranteed.
2nd Day Shipping is valid for $199.99+ orders and is applicable only for 48 continental States (only for Street Addresses, NO PO Boxes or APO/FPO), 2nd Day Shipping is Not applicable to Air Rifles and other large/extra-large items). Proof of postage is always obtained. However, an item is only considered "lost" after 15 working days, please contact us if your item does not arrive. If the wrong contact details are provided any losses incurred as a result will be the buyers responsibility.
Shipping Restrictions by location.
It's up to YOU to know the laws in your state, county and city and to fully comply with them. The following are examples of some state and local restrictions governing various products. This list shows products that are prohibited in the locations indicated. When criteria must be met for ownership, those are also listed.
Unable to ship due to shipping restrictions.
In some situations we are unable to ship an item because our shipping partners require us to restrict it to ground transportation only (the FAA will not allow them to transport it on an airplane).
If you have a restricted item on your order, we can only provide ground shipping options. Sometimes you live in a place that does not have guaranteed ground delivery, and in this instance we are not able to ship the restricted items to you.
You can remove the restricted items if you would like to receive the items on your order that are allowed to be sent via non-ground delivery.
We Ship Free
Same or Next Business Day
Buy with Confidence 30 Days Money Back
Payment secure. Secure your payment with our trusted payment system.
Buy on Line Pick-up in Store.
Choosing a selection results in a full page refresh.